Robert (Bob) Broeze, PhD, Chief Business Officer, CMC Biologics
[fa icon="chevron-down"]
Robert (Bob) Broeze joined CMC Biologics in 2015 and serves as the Chief Business Officer, responsible for global sales and marketing. He has over 30 years of experience in the biopharmaceutical and contract manufacturing industries including positions as Senior VP, Business Development at Gallus Biopharmaceuticals, LLC (now Patheon Biologics) and Chief Commercial Officer and Chief Executive Officer at Laureate BioPharma. His technical expertise spans research, development, protein characterization, validation, testing and cGMP manufacture of biopharmaceutical products, from pilot to Phase III clinical and commercial scale with a strong emphasis on monoclonal antibody products for therapeutic and diagnostic use. He also held senior positions in R&D and operations at Purdue BioPharma L.P., Bard BioPharma L.P and at Cytogen Corporation. Bob is a graduate of Rensselaer Polytechnic Institute where he earned his BS and Ph.D. degrees.

Gustavo Mahler PhD., President & CEO, CMC Biologics
[fa icon="chevron-down"]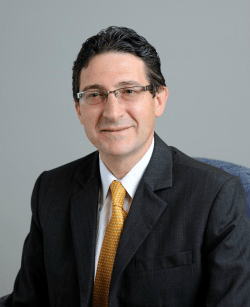 Gustavo Mahler, PhD, joined CMC Biologics in 2008 as president. In 2010, he was named global Chief Operations Officer and in January, 2016 he became Chief Executive Officer. Prior to joining CMC Biologics, Gustavo worked for 15 years at Bayer in the United States, Europe and Latin America serving in various manufacturing and general management positions. He received his PhD in Biochemistry from the University of Buenos Aires, and he also has a Master of Business Administration degree from the University UNED of Madrid and an Executive Certification in Management from MIT Sloan.
Mr. Hideyuki Kurata, Chairman of the Board, Life Science General Division, AGC
[fa icon="chevron-down"]
Hideyuki Kurata joined Asahi Glass Company in 1987 and currently serves as the General
Manager of the newly formed AGC Bioscience General Division. In that role he is responsible
for growth and business development. Kurata-san has 30 years of experience in the chemical
and contract manufacturing industries and has held several key executive positions, entrusted
with the responsibilities of designing and starting up several chemical plants, along with
developing new business and planning AGC's semiconductor vertical. In addition, Kurata-san
held the position of President and Chief Executive Officer of AGC Chemicals, Americas for five
years. He successfully executed a turnaround for the once struggling organization. Kurata-san
is a graduate of Waseda University in Japan, and holds a B.Sc. and Master's Degree in the field
of Chemical Engineering.
Eric Langer, President & Managing Partner, BioPlan Associates, Inc.
[fa icon="chevron-down"]

Eric Langer has over 25 years experience in biotechnology and life sciences strategic marketing management, market research, and publishing. He has held senior management and marketing positions at biopharmaceutical supply companies. He has published and authored many books and reports on topics in Biotechnology, China and India biotech, Large-scale BioManufacturing, etc. He teaches at Johns Hopkins University marketing management, biotech marketing, services marketing, and marketing in a regulated environment. In 1989 he co-founded BioPlan Associates, Inc. to provide market analysis, and strategy to biotech and healthcare organizations.
Patti Seymour, Senior Consultant, BPTC, CMO Summit Chair
[fa icon="chevron-down"]
Patricia Seymour, M.B.A., CSCP is a Senior Consultant with BioProcess Technology Consultants and has over 20 years of experience in the biotechnology industry. Her expertise spans the development and commercialization spectrum, including biologics and small molecule development and manufacturing, supply chain strategy and management, and operations leadership. Her current activities include developing overall CMC strategies for diverse product pipelines, developing and implementing supply chain strategies, managing outsourced process development and manufacturing activities from drug substances through to distribution, steering clients through CMC regulatory requirements, and overall CMC operations including project management. Prior to joining BioProcess Technology Consultants, Ms. Seymour was Senior Director, Global Investigational Supply Operations at Millennium Pharmaceuticals, Inc., where she worked with other senior leaders to develop and implement CMC strategies including outsourcing. She was previously Director of Business Development at Covance Biotechnology Services (now part of the FujiFilm Diosynth) where her responsibilities included negotiating contact manufacturing projects. As Senior Director, Corporate Development at Collaborative BioAlliance she was instrumental in launching the new contract manufacturing business unit. Before Collaborative, Ms. Seymour held research and development positions at ImmunoGen, Dana Farber and Sloan Kettering. Ms. Seymour received her B.S. from Villanova University and her M.B.A. from Boston University. Ms. Seymour is also Certified Supply Chain Professional (APICS).
Sue Behrens, Principal, SB Executive Consulting LLC & Sr. Director, Process Design at IPS
[fa icon="chevron-down"]
Engineering executive with over 20 years experience in cGMP manufacturing of sterile, biopharmaceutical & vaccine products, including new product development, aseptic facility design and validation, technology transfer, trouble-shooting and improvement projects to ensure compliant and efficient supply.
Chris Watts, Founding Partner, VolPal
[fa icon="chevron-down"]
Chris Watts is Founding Partner at VolPal, a global company specializing in the development and implementation of quality and compliance programs for the FDA-regulated industry.
Prior to founding VolPal, Chris served as Partner in the consulting group NNE Pharmaplan, leading the company's global Quality and Regulatory groups. Before NNE Pharmaplan, Chris was a member of the FDA team developing policies and systems for the agency's science- and risk-based approach to cGMP inspection and CMC application review, including ICH Quality guidelines and FDA guidance on Process Validation. Prior to his tenure at the FDA, Chris held a range of industry experience including responsibilty for the development and manufacture of NCE and biotech products.
Chris holds a Doctorate in Pharmaceutical Science from the University of Tennessee, and a Bachelors in Biomedical Engineering from Boston University.
Byron Kneller, Director, AFD, CMC Biologics
[fa icon="chevron-down"]
Mark Backer, Ph.D., General Manager, Alava BioPharm Partners, LLC
[fa icon="chevron-down"]
Mark Backer began his industry experience in 1978 when he became the 7th employee of Genentech, initiating the company's pilot manufacturing operations. After his tenure at Genentech, Mark led pioneering efforts in large-scale cell culture at Eli Lilly, and ex-vivo expansion and gene therapy using hematopoietic stem cells at Systemix.
Mark has also worked with IDEC and Aviron, and served as VP of Technical Development at PDL Biopharma, and Sr. VP of Technical Operations at Jennerex. He served as CEO for Vaxart, a genetic vaccine company, and was co-founder and Chairman for the viral-based CMO Molecular Medicine Bioservices (now SAFC, a division of Sigma Millipore). In 2013, Mark formed the consulting group Alava Biopharm Partners, supporting product developers, CMOs, and investors, with an emphasis on advanced therapies.
Mark received his Ph.D. in Chemical Engineering from the University of Washington, and a BS in Chemistry from Stanford University.
Gary Camblin, Sr. Consultant, RMC Pharmaceutical Solutions Inc.
[fa icon="chevron-down"]
Analytical biochemist with over twenty years of experience as a bench scientist and product technical lead for commercial support and development of EPOGEN®, Aranesp® and other protein, monoclonal antibody and oligonucleotide therapeutic candidates. Manager / leader of high performing teams responsible for analytical development, characterization, commercial support and patient safety.
Michael Benning, Thermo Fisher Scientific
[fa icon="chevron-down"]
John Moscariello, Vice President, PD, CMC Biologics
[fa icon="chevron-down"]
John Moscariello joined CMC Biologics in 2014 and serves as the Vice President, Process Development. Prior to joining CMC Biologics, he held director-level positions at Amgen focused on process development and characterization, clinical and commercial technology transfer, and process validation.
John has a PhD in Chemical and Biological Engineering from the University of Wisconsin-Madison and a Bachelors of Chemical Engineering from the University of Delaware.
Kazuo Sakamoto, Director, Business Development, AGC
[fa icon="chevron-down"]
Mr. Sakamoto held tenure at the Japanese Trading Company in Tokyo and New York City from 1985 to 1999, after which he joined AGC Asahi Glass, Fine Chemicals. Mr Sakamoto served as Group Leader of the Biopharma Group at AGC in 2015, before he became Director of Business Development to present day.
Mr. Sakamoto graduated from Tokyo University of Pharmacy and Life Science with a specialty in Microbial (E. coli).
Sponsor
Platinum Sponsor:

Thermo Fisher Scientific
[fa icon="chevron-down"]

Thermo Fisher Scientific Inc. is the world leader in serving science, with revenues of $17 billion and more than 50,000 employees in 50 countries. Our mission is to enable our customers to make the world healthier, cleaner and safer. We help our customers accelerate life sciences research, solve complex analytical challenges, improve patient diagnostics and increase laboratory productivity. Through our premier brands – Thermo Scientific, Applied Biosystems, Invitrogen, Fisher Scientific and Unity Lab Services – we offer an unmatched combination of innovative technologies, purchasing convenience and comprehensive support.
For more information, please visit thermofisher.com.