Sightseeing in Seattle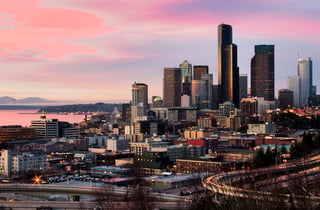 Seattle, Washington is located in one of the most diverse and beautiful regions of the country. The Seattle metropolitan area of about 3.4 million inhabitants is the 15th largest metropolitan area in the country.
Seattle is the home of Boeing, Microsoft, and Starbucks. Beautiful natural areas such as Mount Rainier, Snoqualmie Falls, the San Juan Islands, and the Hoh National Rain Forest are all within a few hours of Seattle.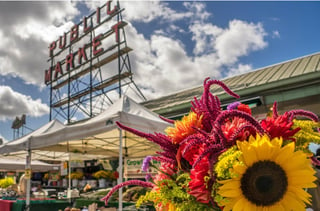 Open year-round, this is Seattle's most iconic attraction — and it's filled with tasty treats.
Aisles of gleaming fruits and vegetables, tables overflowing with fresh floral bouquets, and booth after booth selling all manner of locally made jewelry, clothing and gifts. It's also a great place to enjoy many fantastic eateries serving prepared dishes.
When you're not sure what kind of food you're in the mood to eat, just head to Pike Place Market and sample a little of everything or hop on one of several market tours that focus on food, history, or a little of both. There's also the whole fish-throwing thing, too.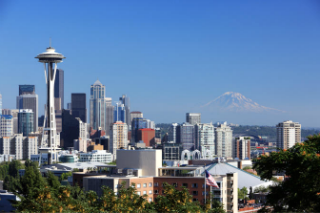 Most definitely a bucket list item for many, the Space Needle is certainly Seattle's most iconic structure. Journey skyward for amazing views, fine dining and an experience you'll never forget.
At a height of 605 feet, the Space Needle boasts fabulous 360 degree views that include Mt. Rainier, Puget Sound, the Olympic and Cascade Mountains, the beautiful city of Seattle and beyond.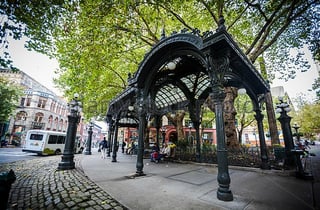 Welcome to the birthplace of Seattle. Laying claim as the city's "first neighborhood," Pioneer Square is a richly historic place known for its Renaissance Revival architecture, First Thursday art walks, night life, delicious lunch spots, and quirky boutiques. Explore the depth and beauty of Seattle's first historic district and jump on a tour that takes you underground to visualize Seattle as it once was in its gold rush days.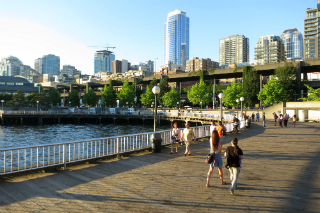 A unique area of the city located along Alaskan Way, the Seattle Waterfront is active year-round. With dozens of paths, piers and public spaces, it's always a great place to relax and enjoy a little people-watching as you absorb the local scene.
The Waterfront is also a popular jumping-off point for water excursions in Elliott Bay and beyond. The Water Taxi to West Seattle leaves from Pier 50, Washington State Ferries depart for Bremerton and Bainbridge Island from Pier 52, and Argosy Cruises launch Harbor Cruises, Locks Tours and Tillicum Excursions out to Blake Island from Pier 55.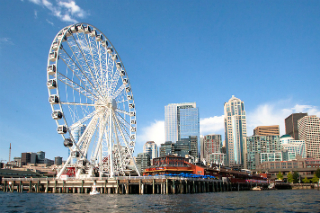 The Seattle Waterfront's newest attraction, the Seattle Great Wheel sits 175 feet above Pier 57 and extends nearly 40 feet over Elliott Bay. A view from the top of this magnificent Ferris wheel offers sweeping panoramas of the city skyline as well as Elliott Bay and the Olympic Mountains beyond.
Each of the gondolas is fully enclosed and climate controlled to allow for year-round riding, regardless of the weather.
Seattle Restaurants
Canlis
2576 Aurora Ave N., Seattle, WA
Phone: +1 206 283 3313
Anduluca
407 Olive Way, Seattle, WA
Phone: +1 206 382 6999
Metropolitan Grill
820 2nd Ave, Seattle, WA
Phone: +1 206 624 3287
Six Seven
2411 Alaskan Way, Seattle, WA
Phone: +1 206 269 4575
Matt's in the Market
94 Pike St., Ste 32, Seattle, WA
Phone: +1 206 467 7909
Shiro's
2401 2nd Ave, Seattle, WA
Phone: +1 206 443 9844
Lark
96 12th Ave, Seattle, WA
Phone: +1 206 323 5275
Blueacre Seafood
1700 7th Ave, Seattle, WA
Phone: +1 206 659 0737
Taxi Companies
Seattle
Seattle Yellow Cab:
+1 206 622 6500
Orange Cab:
+1 206 444 0409
Stita Taxi
+1 206 246 9999
Seattle Weather in September
While conditions may be overcast with a chance of rain, the weather is generally pleasant during September.
Average Temperature: 16 °C (61 °F)
Average Low Temperature: 11 °C (52 °F)
Average High Temperature: 20 °C (68°F)
Chance of Rain: 47%
Chance of Cloudy Day: 41%
Chance of Windy Day: 5%