Upstream Process Development
We can develop processes "from scratch" for customers with no existing upstream process, or we can redesign and optimize existing processes.
Each step in an upstream process impacts the quality, purity, and quantity of the manufactured protein, cell therapy or virtual vector product. At AGC Biologics, we have teams with the insight necessary to identify and optimize upstream parameters that are critical for achieving a high-quality, cost-effective biomanufacturing process.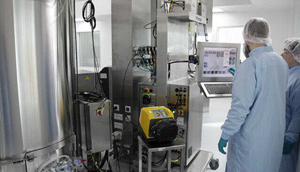 Our process transfer platform is well-substantiated and designed to scale-up directly, from bench-scale to final manufacturing scale, accelerating your development timelines.
In addition, our development team is experienced with fast and effective technology transfer to establish proven processes. This ensures that you receive a seamless route to scale-up and cGMP manufacture.