We're pleased to announce that we will be attending ASGCT this year, running virtually from May 11 through the 14. Be sure to save some time to meet with our team, check out our two abstracts and presentations on lentiviral vector (LVV) and adeno-associated virus (AAV) – both of which we're thrilled to share with you and the community.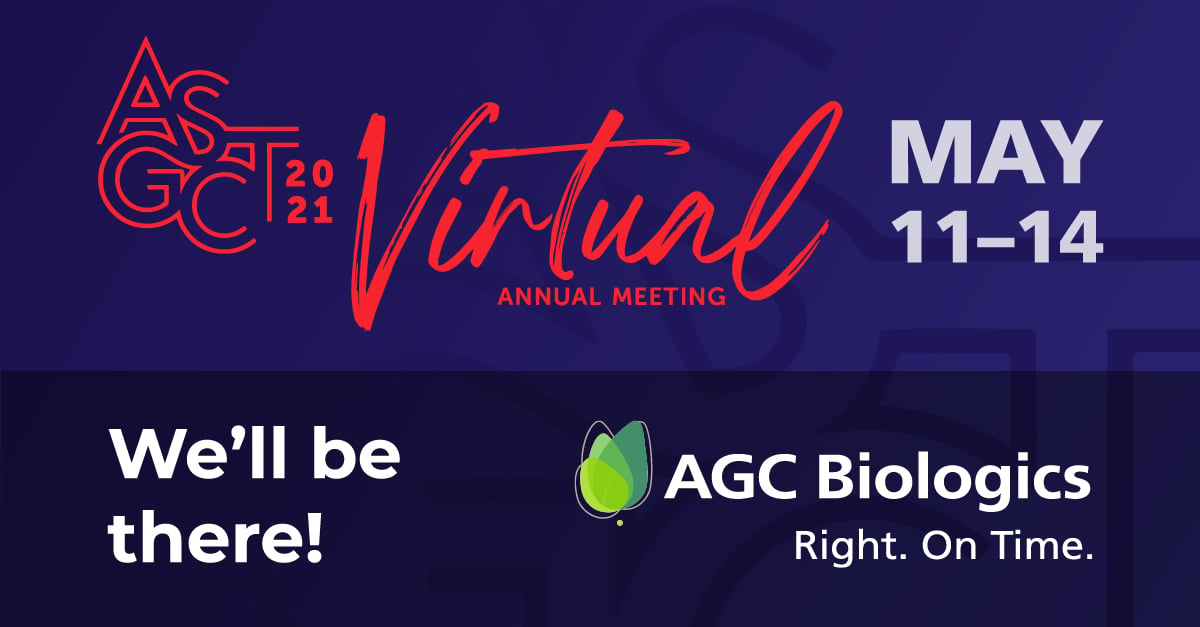 Preview Our Abstracts:
LVV Production At-Scale: From Cell Factory™ Systems to iCELLis® 500 Bioreactor
Evolving from the well-established GMP 48L Nunc™ Cell Factory™ (CF) process, AGC Biologics has developed a robust, scalable, high quality and quantity process for the industrial-scale production of lentiviral (LV) vectors for use in gene-modified cell therapy or in vivo gene therapy. This platform includes vector production in the iCELLis® bioreactor, downstream purification and concentration by chromatography and tangential flow filtration (TFF) steps and sterile filtration and filling in different formats. Read more...


Meeting Market Needs with Scalable AAV Manufacturing
Adeno Associated Virus (AAV) vectors are used in gene therapy for both in-vivo and ex-vivo applications. Because the application of AAV products is so diverse across indications and virus volumes needed, there is a market need for a platform offering that allows for manufacture at different scales. The availability of an efficient and scalable AAV vector production process is often a critical manufacturing challenge, for both the clinical and commercial phases. To address this, AGC Biologics is developing a platform for various scales (50L-500L) of AAV production with different serotypes (AAV-6; AAV-8; AAV-2; AAV-9), based on transient transfection in HEK293 and HEK293T cells. Read more...


Can't attend this year but still interested in our abstracts and presentations? One of our company representatives would be happy to share more information with you – simply contact us using this form.


About ASGCT
The mission of ASGCT is to advance knowledge, awareness, and education leading to the discovery and clinical application of genetic and cellular therapies to alleviate human disease. ASGCT's strategic vision is to be a catalyst for bringing together scientists, physicians, patient advocates, and other stakeholders to transform the practice of medicine by incorporating the use of genetic and cellular therapies to control and cure human disease. Learn more.