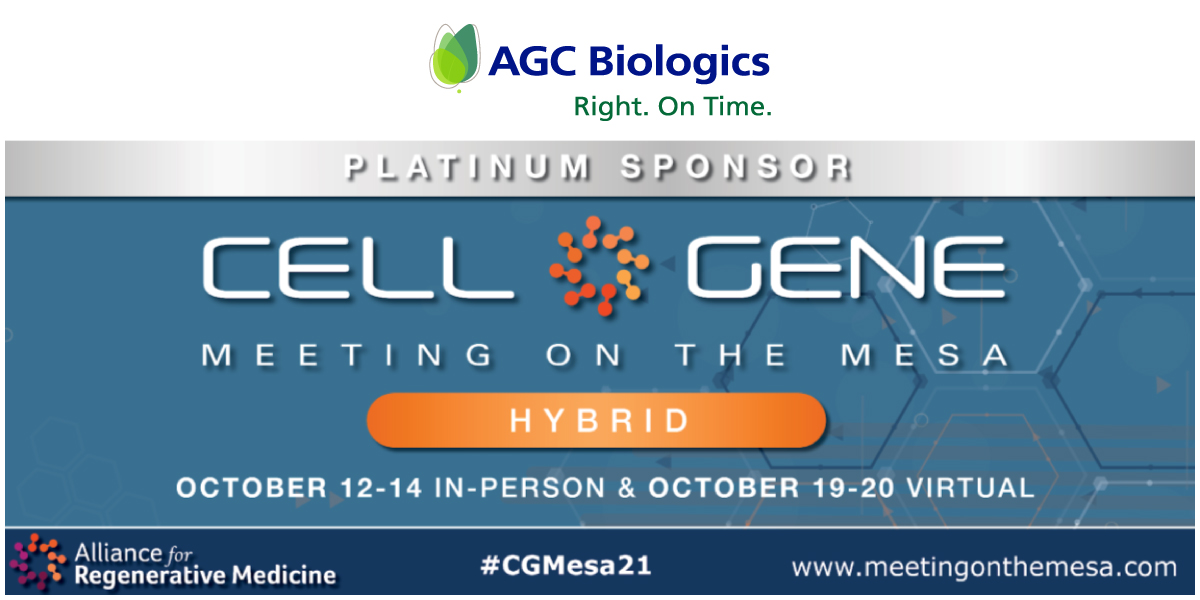 Date: October 12-14, 2021
Location: Carlsbad, CA
Booth: Our partnering booth will be located in the California Salon
Event Website: meetingonthemesa.com
Program Organizer: Alliance for Regenerative Medicine
AGC Biologics team members in attendance:

Jason Arcediano

Ramin Baghirzade

Mike Faughnan

Ilia Jimenez

Aaron Solis

Giuliana Vallanti
Contact us to schedule a meeting
Watch Our Virtual Presentation, starting October 12
Join us for a presentation by our very own Ramin Baghirzade, Ph.D., Global Head of Business Development for Cell & Gene Therapy, as he will be presenting "Solving C&GT Capacity Shortages: AGC Bio's End-to-End CDMO Services".
This pre-recorded virtual presentation will be available on-demand within the platform for all registrants to view starting October 12, 2021.
Visit the event website to watch!
Win the Cell & Gene Therapy Race with AGC Biologics
Related News
AGC Bio Expands pDNA and mRNA Manufacturing Capacity at Heidelberg Facility
Published on 9/13/21
AGC Biologics Acquires Commercial Facility, Expanding Cell & Gene Therapy Global Service Offerings
Published on 8/5/21
AGC Biologics Announces the Expansion of Their Cell and Gene Therapy Facility in Milan, Italy
Published on 3/2/21
AGC to Complete the Acquisition of MolMed on July 31, 2020
Published on 7/27/20
About the Event
The Cell & Gene Meeting on the Mesa is the sector's foremost annual conference bringing together senior executives and top decision-makers in the industry to advance cutting-edge research into cures. Tackling the commercialization hurdles facing the cell and gene therapy sector today, this meeting covers a wide range of topics from clinical trial design to alternative payment models to scale-up and supply chain platforms for advanced therapies. The program features expert-led panels, extensive partnering capabilities, exclusive networking opportunities, and 100+ dedicated presentations by the leading publicly traded and privately held companies in the space. Attracting over 1,200 attendees – over 20% of which are C-level executives – this conference enables key partnerships through more than 3,000 one-on-one meetings while highlighting the significant clinical and commercial progress in the field.