AGC Biologics CEO Gustavo Mahler recently sat down with Global Business Reports to discuss our business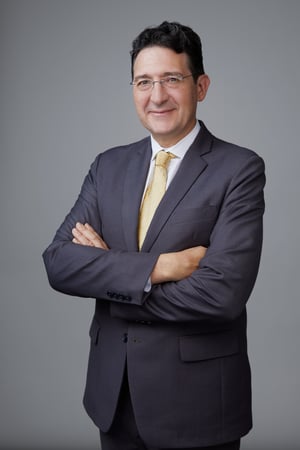 and his vision for our future.
AGC Biologics was created following AGC Asahi Glass' acquisition of Biomeva and CMC Biologics. Could you provide an overview of how the three organizations have been integrated?
Following the acquisitions of CMC Biologics and Biomeva, we began to identify how to integrate all entities under the single AGC Biologics brand. There are a number of challenges that come with rebranding because all stakeholders need to be accounted for. Thus, we carried out a thorough integration period across nine different streams, including operations, quality, I.T. and supply chain. We also developed a strategic plan to grow the business. We had an ambitious capital investment approach, which included expansion at our Denmark facility in order to support the demands from current and potential new customers. This included additional bioreactor capacity to support customers that are developing orphan drugs and niche products. Moreover, we are now the largest microbial CMO in Japan. The Japanese market needed a CMO to carry out mammalianmanufacturing to both E.U. and U.S. standards, and we are currently building the first facility of its kind in Japan, which should be ready by Q3 2019. Even at this early stage, we already have a lot of client interest. Moving forward, we also plan to expand our microbial commercial capacity in the United States.
AGC Biologics has successfully manufactured more than 200 biological projects, from pre-clinical studies through commercial approvals. With the acquisitions, we now have manufacturing facilities at a variety of scales for mammalian cell culture and microbial fermentation in Berkeley, California and Seattle, Washington as well as in Heidelberg, Germany, Copenhagen, Denmark plus Yokohama and Chiba, Japan.
What differentiates AGC Biologics' service offering from the rest of the market?
We are one of the best CMOs working with orphan drugs and smaller products in the biologics space. Getting these types of products approved in mammalian manufacturing systems is challenging...
Continue Reading on Global Business Reports