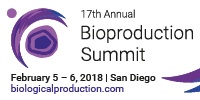 Join us at the 17th Annual Global Bioproduction Summit in sunny San Diego! We'll be at Booth #6, February 5-6, so please make sure to stop by.
The Bioproduction Summit is a great source for highly technical content focusing on the key challenge areas of biopharmaceutical development. You'll find solutions to the most critical challenges in R&D, upstream, downstream and manufacturing excellence.
Key topics on the agenda include purification, quality, tech transfer, validation, CMC development and single-use technologies.