Since 2013, European Biotech Week has been a premier event offering exclusive content, meetings and demonstrations that highlight how biotech can improve our quality of life.
This year, we are excited to partner with European Biotech Week 2021 to open the doors of our expanded state-of-the-art Cell and Gene Therapy Center of Excellence and production facility in Milan, Italy.
As a global CDMO, we are laser-focused on building the industry's best cell and gene therapy (C&GT) and biologics development and manufacturing services.
On October 1st at 11:00 am CET, AGC Biologics is hosting a free virtual tour that showcases our end-to-end capabilities and our new Process Development and Quality Control laboratories.
You don't want to miss it, sign-up today!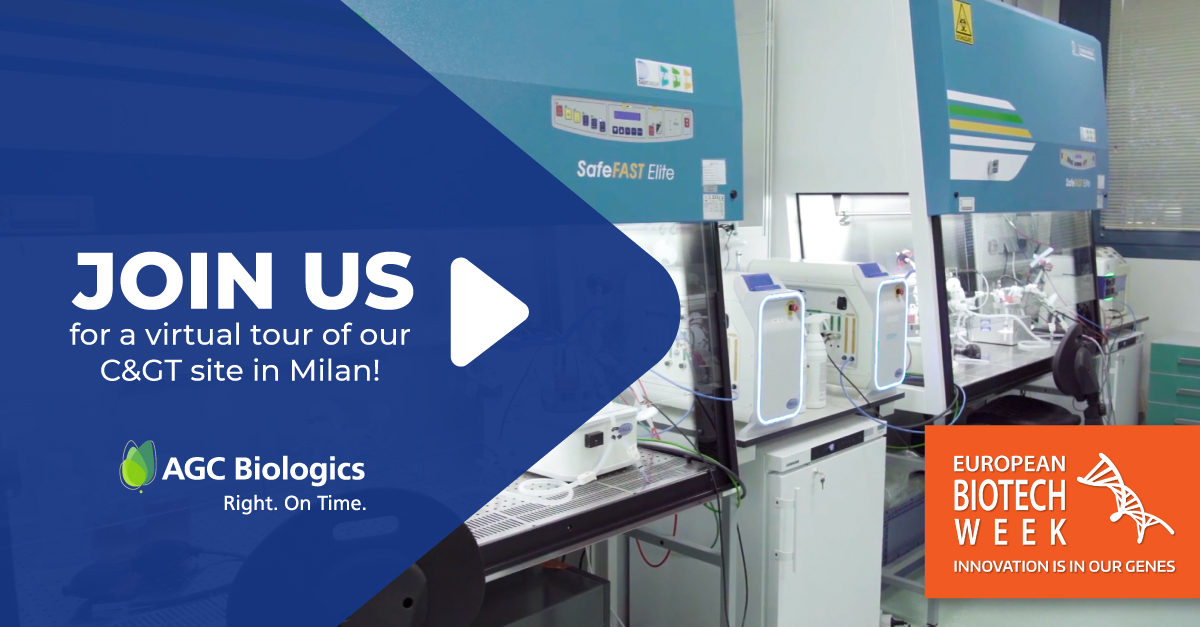 What to Expect on AGC's Virtual Tour of our Milan Facility
Elisa Focchi, our Upstream Vector Development Technician, will walk you through key features of our upstream vector manufacturing capabilities. She will show you the equipment required for producing viral vectors and share strategies we follow to provide our partners with the highest quality of product possible.

Samuele Corbetta, a Downstream Vector Development Specialist, will explain our downstream vector manufacturing process, its importance, and how purification processes play a crucial role in developing the final product yield.
Paola Terreni, a Cell Process Development Specialist, and Linda Calzolari, a Quality Control Technician, will present AGC Biologics' cell engineering capabilities. These experts will highlight the equipment and procedures necessary for gene editing and the manufacturing of cells, which are utilized in treatments that help cure rare diseases and cancers.
Lastly, our Analytics Method Development Technician, Matteo Pennati, and two of our Quality Control Technicians, Gloria Negri and Mattia Ferrarese, will highlight our analytics capabilities. AGC Biologics has invested heavily in building industry-leading analytical services. We provide more than 95% of analytical methods (˜160 tests) in-house, ensuring accuracy and a fast turnaround to help you bring your product to market. 
Through our global C&GT facilities network, we offer solutions to our customers so they can provide some of today's most innovative and effective treatments.
We are excited to have you join our tour! If you cannot make it to the live event, it will be available on-demand  here.